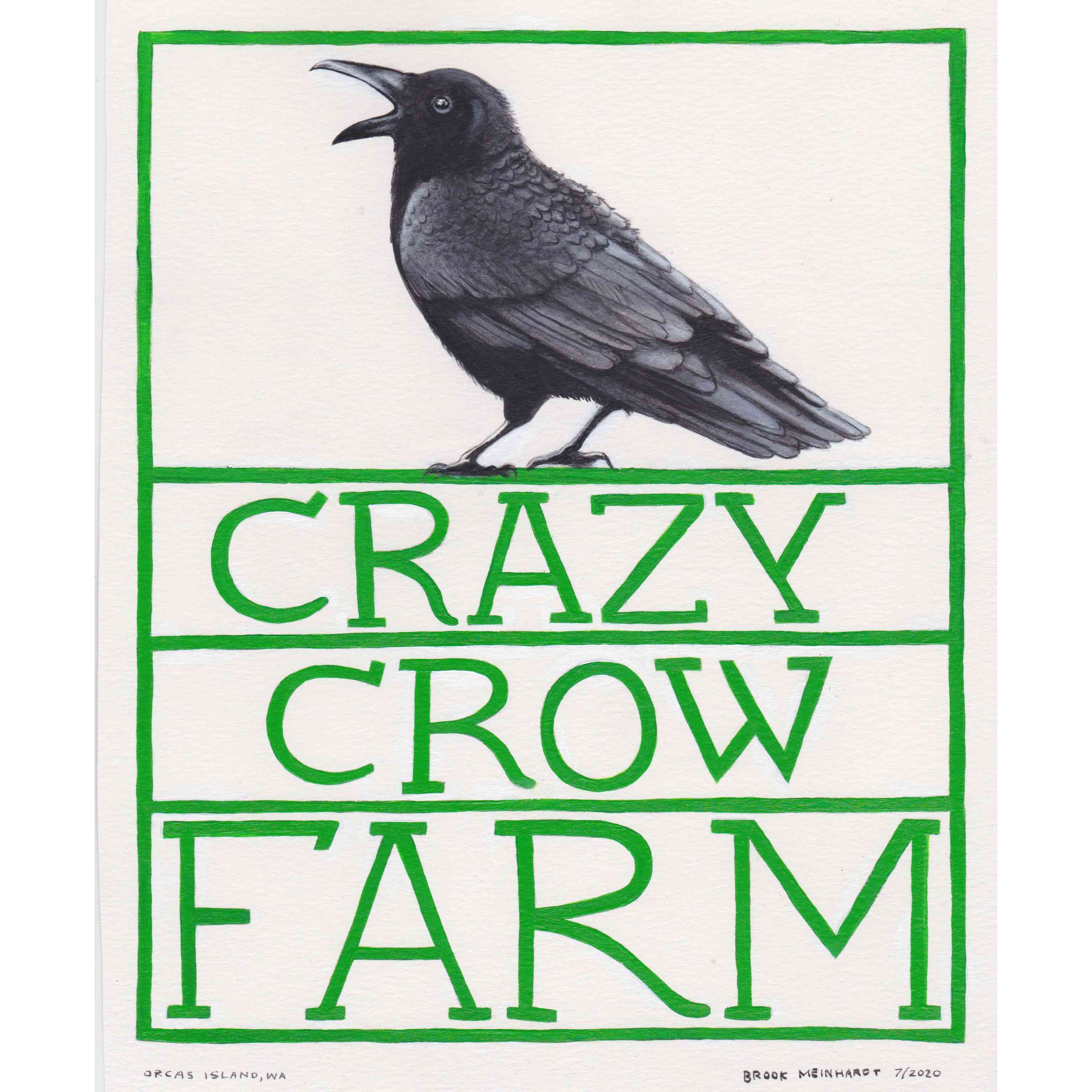 Crazy Crow Farm LLC
Contact: Sheila and Robert Rubey
Address: 190 Frances Lane #694 Eastsound , WA, 98245
Email Address: Rburgess900@gmail.com
Phone: 206-900-3434
About Us
Crazy Crow Farm is currently in year 4 of a long-term permaculture plan to redevelop 40 acres of farm and forest in the Crow Valley of Orcas Island, WA. Our mission is to enrich the land, make it more sustainable for current and future generations, and to be an additional local source of healthy, wholesome, naturally grown, delicious foods. Please see our website for more information on what we have growing, or email us at rburgess900@gmail.com.
Practices
We use a holistic plan to grow our market products. Our seasonal products are produced in permanently placed raised beds located among perennial borders. This allows us to avoid tillage while prepping bed spaces for seasonal crops. The beds are amended with only OMRI-certified products: Blood meal, bone meal, and mycorrhizal inoculants. The manure comes from our resident farm animals. The mowed paths of the garden provide us with ample amounts of clover mulch to fertilize our crops during the growing season.

We use an integrated system of crop rotations, animal grazing, mulches and large perennial borders to control pest populations. These borders provide trap crops for pests and habitat for beneficial insects, birds and reptiles.

Our annual vegetable crops are grown in raised beds which are structurally supported by living plants. These plantings are fragrant, hiding growing crops from pests, while providing nectar and habitat to browsing predatory insects.

No vegetable or root crops are ever sprayed with pesticide.

All of our crops are seeded, planted, and harvested by hand.

We use OMRI-listed Sluggo to control slug and snail populations in Spring and Fall and OMRI-listed neem tree oil to spot treat a range of pest infestations on tree crops.