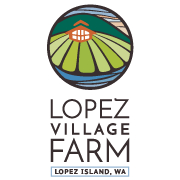 Lopez Village Farm
Contact: Darren Hoerner and John Bredeson
Address: 75 Andrews Lane Lopez Island, WA, 98261
Email Address: darren@lopezvillagefarm.com
About Us
Healthy food equals happy hearts.

We believe that farming is a gift that we give to the earth, and in return, it gives back to us. It is a reciprocal relationship of nurturing in the name of nourishment. Our small-scale farm on Lopez Island is committed to supporting this cycle and feeding island communities by providing locally raised, intentionally nurtured food.
Practices
We believe healthy soil results in vegetables with the nutrients your body needs. We nurture soil life and keep our beds clear of pesticides, fungicides, and herbicides. Contact us at darren@lopezvillagefarm.com with any questions.